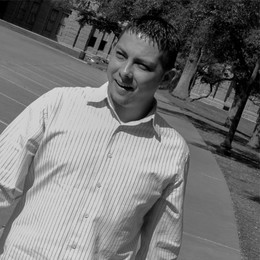 Hello there! Welcome to my portfolio site!
My name is Eric Hartkopf, I am a multidisciplinary graphic designer based in Arlington, TX. I have over 12 years of experience in the design industry. This has afforded me the opportunity to work with clients both locally and nationally, work independently as a team member, work as a member of a design team, as well as, the creative director of a design team. As a designer I am always looking for creative challenges, opportunities, and stimulating environments to produce quality work. My combined professional experience and academic training allow me to contribute in fields ranging from traditional pre-press production to multimedia production. This site is a collection of my creative thinking, design, and work that represents the problem solving, simple solutions, and cost-effective results I have produced throughout my career. If you like what you see here please contact me, I'm always interested in new projects & working with great people!
Work Experience
Ari 6 Studios – Owner / Freelance Graphic Designer
Arlington, TX
October 2015
Formed in October of 2015, Ari 6 Studios is multidisciplinary graphic design and communication studio. I formed Ari 6 Studios so that I could work from home in preparation of my wife giving birth to our fourth child (She is due in November). That is probably too much personal information...but you came here to learn about me! Currently I am working with several smaller local businesses to create/update their brands. In the coming weeks I will have several identity packages and websites websites created.
Winzer Corporation – Creative Director / Graphics Manager
Plano, TX
August 2010 - October 2015
I started at Winzer in August 2010 as the Graphics Manager. My job duties included managing one graphic designer, two production artist, and a print shop technician. I was also responsible for all marketing collateral and catalogs produced for all of our franchises and sales representatives. In November of 2014 I was promoted to Creative Director. By this point I was managing 3 graphic designers, 3 production artist, and 1 print shop technician. Winzer had grown from 65 million in sales to 100 million in sales, I went from managing 1 identity to 5, our catalogs produced more than tippled. I left Winzer so that I can work from home and spend more time with my growing family.
DMA Inc. – Creative Director / Graphic Designer
Arlington, TX
July 2004 - March 2005
November 2005 – July 2010
I was hired on at DMA Inc. as a graphic designer in July of 2004. It was a small company so I wore many hats while employed at DMA. As a designer, some of my duties included, catalog production, product photography, monthly publication ads, sales presentation, and web maintenance. I left the company briefly and returned in 2005 as the creative director. As the creative director I managed a team of 2 designers, coordinated print quotes, print checks, negotiated with printing vendors on prices and turn around times, and developing a marketing plan. I left DMA to join Winzer Corporation in July of 2010.
eSports Partners – Graphic Designer
Coppell, TX
March 2005 - November 2005
I started at eSports Partners in March of 2005 as a graphic designer. I was responsible for the online proshop and catalog creation of 4 NFL teams and 3 NCAA teams. My responsibilities included, catalog production, product photography, photo manipulation, web maintainence, web advertisement, and media guide designs. I left eSports Partners to return to DMA as the creative director.